Welcome to our little corner of Ladner Village! We look
 forward to helping you achieve your oral health goals.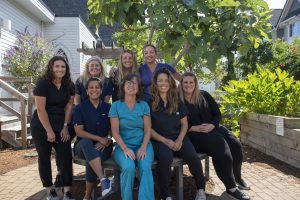 Summer 2021
Dear Patients,
We hope you are all keeping well. 
Though we assure you that your experience at our office will be as warm and friendly as usual, a few things will be different. If you do not have an appointment, we ask you to call or email to be in touch rather than walking in. We are now equipped with a touch-free automatic door – please wave at the button to the left of the door to enter and exit the office. Our waiting area is looking a little more sparse in order to reduce high-touch items and surfaces. Remaining items and surfaces will be disinfected periodically throughout the day. There are red dots on the floor signifying areas to sit or stand at approximately 6 feet apart, should you be sharing the space with anybody else. We have installed a plexiglas screen at our reception desk. Upon arrival, our Receptionists, Shannon and Dani, or another staff member, will greet you, ask you to use hand sanitizer and provide you with a mask to wear into and out of your treatment room should you not have your own. They will also work through a series of COVID screening methods with you, including paperwork and taking your temperature. 
Behind the scenes: UVC bulbs have been installed into our air conditioning unit. We've added a medical-grade Novoaerus air filtration unit to each operatory. Our Dental Assistants will be using external suction devices that look like elephant trunks, and our Hygienists will be using higher volume suction devices called Nubirds. We've taken these measures  in order to reduce the amount of aerosols generated during a dental procedure, and to further protect the air in our office.
Once you're in the treatment room, our staff members will discuss with you any additional changes, depending on your individual treatment, to expect throughout your visit.
Thank you for keeping yourselves and our community safe during this time. 
Sincerely, 
Dr. Ann Sahota