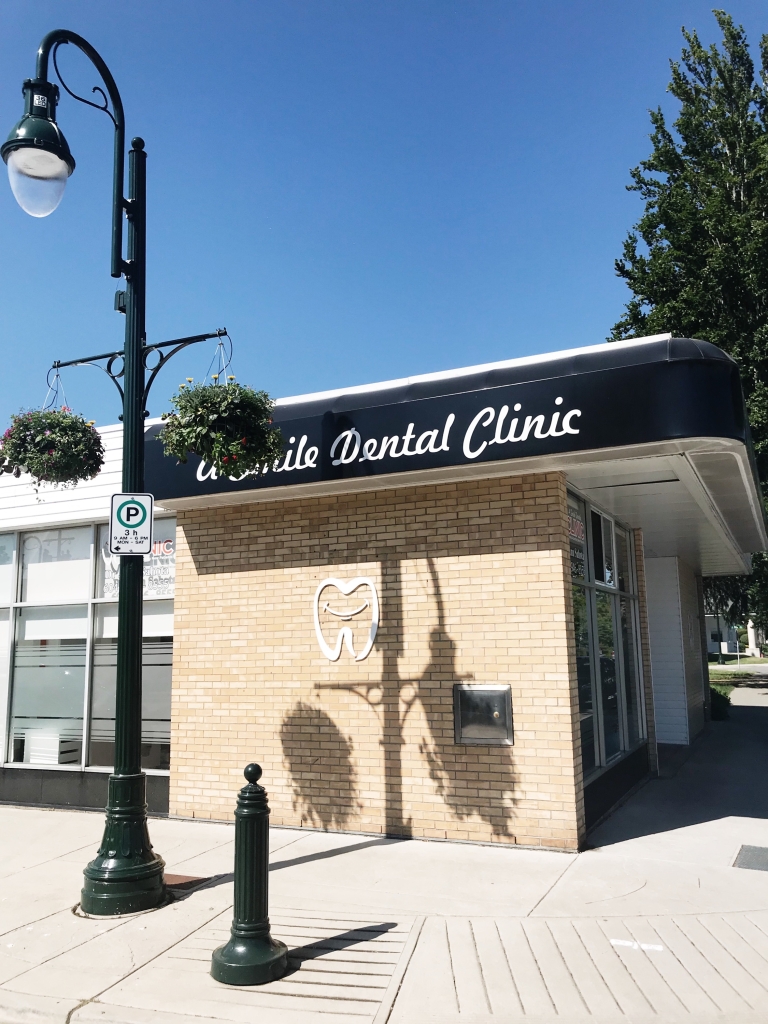 Welcome to our little corner of Ladner Village! Dr. Ann Sahota, Dr. Terry Coward, Dr. Vivian Chow and the rest of our team look forward to helping you achieve your oral health goals.  Book an Appointment.
HEALTH ALERT – MAY 2020
Dear Patients,
We have missed you greatly, and are pleased to announce that we are open again for all treatment.
For your information:
To ensure our staff and our patients safety, we have upgraded the HVAC filtration systems that were already in place, and have installed Ultraviolet and Electrostatic filtration throughout the office. We have ordered medical grade low voltage plasma air filtration units (Novoaerus) for each dental operatory, to complement our Surgically Clean Air cascade unit. We also have air suction devices at your shoulder level to reduce any aerosols, and our Hygienists will be using new high-volume suction devices. This was all done to reduce the amount of aerosols generated in our space.
The office also looks a little different. As the waiting area is temporarily closed, we ask patients to wave at us through the door upon arrival, and we will signal you to come in. When you enter the office, we ask that you use hand sanitizer or wash your hands. If you do not have your own mask, we will provide you with one to wear into and out of the office. Each patient will be given a hydrogen peroxide rinse for 30 seconds in order to reduce bacterial and viral load before treatment. Our staff will be wearing disposable gowns, N95 face masks, hair coverings, face shields and gloves, so it will be a bit difficult to see our faces for the time being, but we are under there!
See the links attached to view some of the equipment we've installed:
https://www.dropbox.com/s/bdfhgriiihq1l34/Lab_Study_CIT_Air_Simulation_2017Jan03.pdf?dl=0
https://insights.regencylighting.com/can-uv-light-kill-viruses-like-covid-19
We hope you are keeping healthy and safe, take care!
Dr. Ann Sahota
WORKSAFE COVID-19 SAFETY PLAN/LIST – MAY 2020
Our waiting room is closed
Plexiglass was installed at the reception desk 
Hand-sanitizer stations are set up 
High-touch surface areas sprayed with microbe-shield daily
One patient in the waiting area at a time
Patients' appointments are lengthened and staggered to avoid overlap
Fogging of rooms is performed periodically throughout the day
UVC bulbs were installed inside and outside of the office 
High-volume suction was installed in hygiene operatories
Air vacuums were installed in dental operatories
Hand scaling instead of ultrasonic instrumentation when possbile to limit aerosoles
No polishing when possible to limit aerosoles
Adequate PPE provided to staff (gowns, face shields, appropriate masks, etc.)
Our bathroom is closed to patients with pre-warning
Symptom check for our staff is completed daily
Reception area wiped periodically throughout the day
Clipboards/pens for patient use are wiped per use
Our pin pad is wiped per use
Hand hygiene policy in place for staff
Patients fill out screening forms prior to appointments 
Patients' temperatures are taken upon arrival 
Each patient will be given a mask to wear in and out of the office
Staff will verbalize sumptom checklist with patients
Patients will rinse with peroxide rinse before treatmet
Patients supplied with bibs and eye-protection as usual